Syrp Motion Control Genie II Linear Can be used on any slider
Syrp Motion Control Genie II Linear Can be used on any slider
Motorized Camera Platform

3.5" Quick Release Camera Plate

Slides Along Included Genie Rope

Keyframing for Complex Tracking Shots

Reduced Friction on Rope Drive

Integrates with Genie II Pan/Tilt Head

Compatible with Third-Party Sliders

Time-Lapse & Video Modes

Joystick, Smartphone & Tablet Control

Quiet & Compact, Portable Form
Tax included.
Shipping
calculated at checkout.
Introducing Genie II Linear
This supercharged version of the original Genie comes with improved speed, power, noise reduction and many new features. Genie II Linear can attach to any film equipment on the market including your favourite sliders, cable cams and DIY gear. We've redesigned the rope drive system meaning there's a lot less friction making it more reliable for vertical motion and improved power consumption. 

Use the time-lapse mode for linear motion time-lapse and the video mode for smooth motion video. Portability was kept at the forefront of design so Genie II Linear can easily slot into any camera bag and always be a part of your regular camera kit.
Genie II Linear - The Go-To Motion Controller
If you're shooting interviews or anything that requires keeping the noise down to a minimum, Genie II Linear is your go-to motion controller. It provides both the smooth controlled motion that you need in your films and it runs back and forward without you having to monitor it. Plus, the added bonus of being ultra-quiet.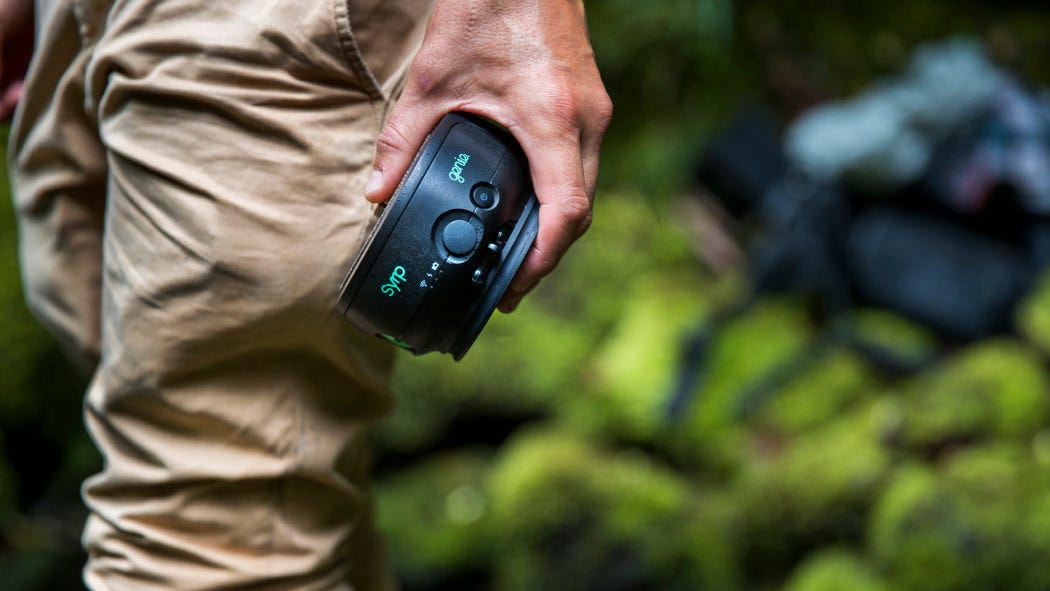 Quickly Re-position with App or Integrated Joystick
You can fully control the Linear Drive with the app utilising key frames for complex setup. You can also use the integrated joystick on the device for quickly re-positioning it without having to use your smartphone or tablet, perfect for quick setup and run-and-gun productions.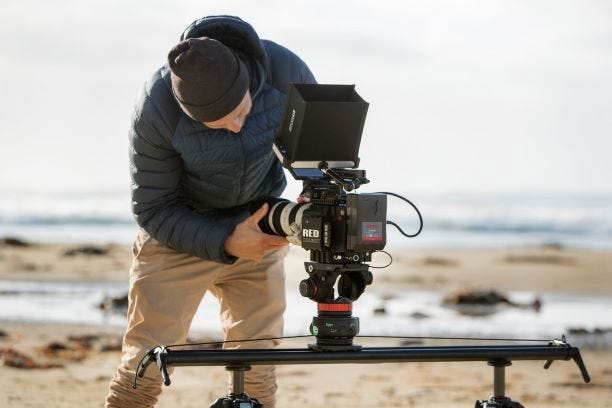 Lightning Fast Quick Release System
The Quick Release system was specifically designed to keep your camera secure while keeping you mobile and is one of our greatest on-location time savers. Genie II Linear has the Quick Release plate integrated. Simply attach the QR Plate to your camera or Tripod head and click it straight in to shoot.

The Magic Carpet Pro also comes with an integrated QR plate. If you attach Genie II Linear with Magic Carpet Pro you will get an incredibly low profile, stable setup.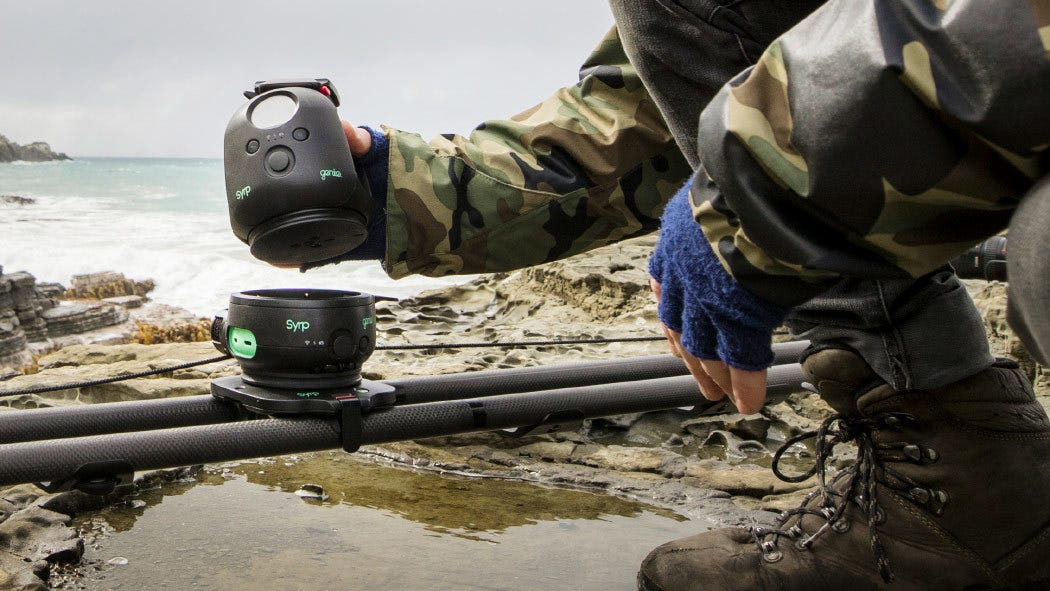 Multi-Axis Integration
Click in the Genie II Pan Tilt directly into the linear, sync over Bluetooth and you have a full 3-Axis system that can be setup and controlled either via the on-board display on the Pan Tilt or on the Syrp Genie 2 App. 

As an alternative you can combine Genie Mini with the Genie II Linear Drive for a super sleek and compact Pan Track Motion Controller. It gives filmmakers a powerful but affordable 2 axis system, capable of being connected to any slider on the market. Adding another Genie Mini enables 3-Axis in a powerful modular package.
The App has had a complete redesign. Now includes multi-axis Keyframing, Auto Bulb Ramping*, Camera Control*, Live View* and much, much more. Not all features will be available upon the first release, but free firmware updates will happen regularly.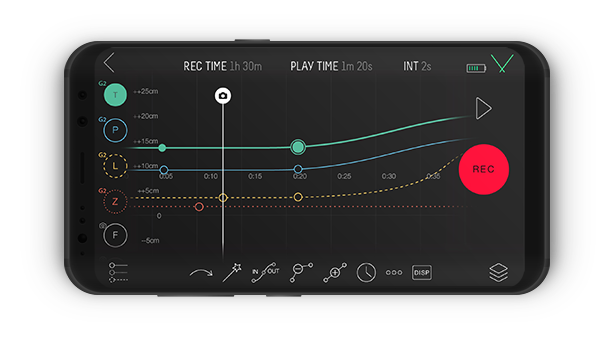 Syrp Genie II App Features:
• Key-framing - Set any number of keyframes for infinitely complex motion control setup

• Ease in / Ease out - Ramp your movement at the start and end of any keyframe

• In-app joystick control for setting start and end points

• Bounce Back (repeat) Mode for shooting interviews

• Simple App setup mode for quicker setup *On future release

• Exposure Ramping (Bulb Ramping) - Automatically ramps exposure values for day to night time-lapse *On future release

• Live View Mode - See what your camera sees right on your mobile device *On future release

• 360° time-lapse - Capture dynamic panoramic photos and video sequences on your device - *On future release

• Multi-row panorama - Compile multi-row panoramas directly on your device- *On future release

• Time-lapse compiler - Process a time-lapse directly on your device to see a time-lapse preview*On future release

• Stop Motion *On future release

• Live Axis control - Use the joystick controls to shoot live action video *On future release

• Gallery editor - make simple video editing adjustments to time-lapse and share online *On future release

• Camera App - Control the camera on your smartphone to use with the Genie *On future release

Genie II carries with it the same attention to simplicity and portability as the original Genie, but this time customers will also be getting key framing, full camera control, high speed wireless connection, multi-axis movement and much, much more.
| | |
| --- | --- |
| Maximum Speed | |
| Linear | 160mm/sec |
| Minimum Resolution | |
| Linear | 0.01mm |
| Battery Linear | |
| Timelapse Mode | 14hrs |
| Video Mode | 8hrs |
| Charge Time | 3hrs |
| | Li-Ion 11.1V 2600 mAh Rechargable Battery |
| Payload Linear | |
| Horizontal Operation | 16.5lbs (7.5kg) |
| Vertical Operation | 11lbs (5kg) |
| Weight | |
| Genie II Linear | 2lbs (0.9kg) incl battery |
| Interface | |
| USB-C Ports | Charging, Camera Trigger, Camera Control |
| Mount Type | |
| Top | 1/4-20 or 3/8-20 UNC Screws for mounting cameras |
| Underside | 3/8 UNC Thread for attaching to sliders, tripods, other systems (1/4" to 3/8" Adaptor also included) |
| Compatibility | The Genie II is compatible with 100s of different cameras |
| | including DSLRs, |
| | Mirror-less cameras and video cameras. For a full list of compatible cameras |
| | see the product - Link Cable |
Genie II Linear Drive
3m (9.9ft) Genie Rope
USB-C to 2.5mm Link Cable Adapter
2x Rope Hooks
90mm Quick Release Plate
USB-C Charging Cable
USB-C International Wall Charger
USB-C to USB-A Adapter
Syrp Warranty